Levi Blakely

""

Full Name

Levi Blakely

Goes By

Levi, Lee

Birthday/Age

January 27th/17

Height

6'1

Weight/Build

idek/sexily

Hair Color

Black

Eye Color

Blue

Current Residence

Two story house with his evil parents and hellspawn siblings.

Electives/Teams/Clubs/Job
Miscellaney



Journal

Played By

Adam Lambert
BIRTHPLACE » Boston, MA
TATTOOS/PIERCINGS » None
FAVORITE FOOD » White chocolate. No, really.
FAVORITE COLOR » Purple
FAVORITE BAND » Lady GaGa, Ke$ha, Panic at the Disco, Scissor Sisters and Dashboard Confessional. Yes, them.
FAVORITE SEASON » Winter
FAVORITE MOVIE » Velvet Goldmine
Levi Blakely was born in Boston, Massachusetts, to a ridiculously rich family. Jonathan Blakely, his father, married Penelope Blakely for money rather than love, and as a result, having Levi was a decision the couple made because of the need for an heir to the company Penelope owned. This meant that Levi wasn't exactly raised in a nurturing and loving environment; Levi spent most of his childhood being watched by a nurse or babysitter. When Levi turned eight years old, Penelope decided that she wasn't happy with her current spawn, thinking that Levi wasn't going to be ruthless enough to control a company years down the road. Nine months later, twins Josephine and Thomas Blakely were born.
Basically? Levi's family hates everything that he is. Penelope enjoys the fact that the twins are much more aggressive than Levi ever was, and she favors them immensely. She spoils them as much as she's able, and Jonathan encourages the children to try and, as he put it, "straighten Levi out," a joke that he thinks is incredibly funny. This would be why Levi spends as much time away from home as possible, and also flaunts his sexuality when he's at home as much as possible, because in his mind, if he doesn't, it's letting them win.
RELATIONSHIPS
Edit
Ryan Letowski | Levi's crush on him knows no bounds. He wants to hold his hand all day, every day. <3
Adrian Palton | BFF and ever. So much platonic love for this boy.
Boheme Rhapsody | One of his best friends. They're so bitchy to each other, it's hard to tell.
Ethan Ford | HETEROSEXUAL LIFE PARTNER. :3
Everett Lane | Catty bitch.
Shane Hayes | A VAMPIRE OH GOD. No, Shane bit Levi and Levi is... intrigued by it.
Patt Letowski | Best troll ever.
Alec McDowell | Pantless Wonder. Levi thinks he's a sweet guy, at least?
Helena Way | Levi will bitch-slap her into next week. :|
ABILITIES & SPECIAL TALENTS
Edit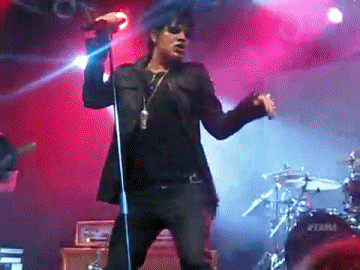 For Your Entertainment: Adam Lambert
let's go, it's my show, baby, do what I say / don't trip off the glitz that I'm gonna display